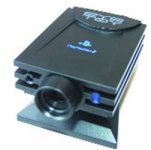 Following up on an old post about Sony PS2 EyeToy drivers for Windows, which got that old Playstation 2 EyeToy web camera working on Windows 32bit environments, I've finally managed to get drivers that work for 64 bit.
Available here (for now): http://www.filedropper.com/eyetoy64
And taken from here…
"Unpack to Desktop.

To install, go to Device Manager, right click the EyeToy, and then Update Driver, then Browse, Let me pick, Have Disk, and then HCLASSIC.inf at the root of the supplied folder you put on your desktop. It will complain about the drivers not being signed, but it is golden! I included a small camera test program, which is labeled EyeToy.exe"
Works for me on Windows 7. Haven't tried it on Windows 8 yet but in theory it should work.